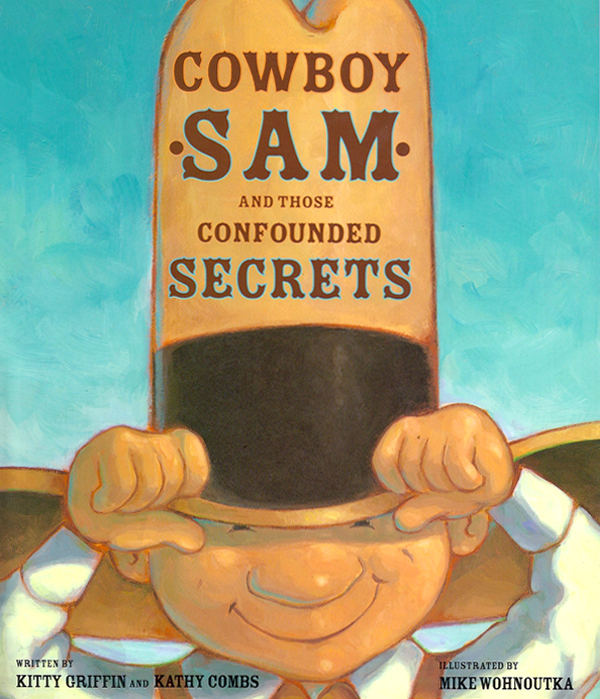 Cowboy Sam and those Confounded Secrets
Written by Kitty Griffin and Kathy Combs
Illustrated by Mike Wohnoutka
Clarion Books, 2001
Picture Book, 32 pages
Ages 4–8
Hardcover ISBN: 978-0-618-08854-6
Nominated for the 2002-2003 Buckaroo Award
Under Cowboy Sam's hat are more secrets than fleas on Doc Peeble's hound dog, more secrets than peppers on a chili pepper plant, and more secrets than spikes on a horny toad lizard. Just about everyone in the town of Dry Gulch wants to tell Sam a secret. But when his hat gets plum full of secrets and won't stay put on his head, Sam is bumfuzzled and bewildered. How can he keep all those secrets under wraps—and keep the townfolk from going crazy?
"Rootin'-tootin' boot-scootin' fun, beginning to end."
—Publishers Weekly (starred review)
"This playful picture book brings home a strong message for children-the importance of keeping friends' secrets. The illustrations are both effective and enchanting as they capture the true western flavor."
"The Western landscape and theme are wonderfully captured by Wohnoutka's cartoon representations of the town and its inhabitants. A pleasing, humorous read for young cowboy fans."
"Colorful acrylic illustrations illuminate this lighthearted tale."
"Acrylic paintings echo the tale's humor with exaggerated perspectives."
"Clever story, but most fun is the artful way the two authors play with words. They are the queens of metaphor."
Reading guide prepared by the Minnesota Humanities Commission for the Minnesota Storytime project.