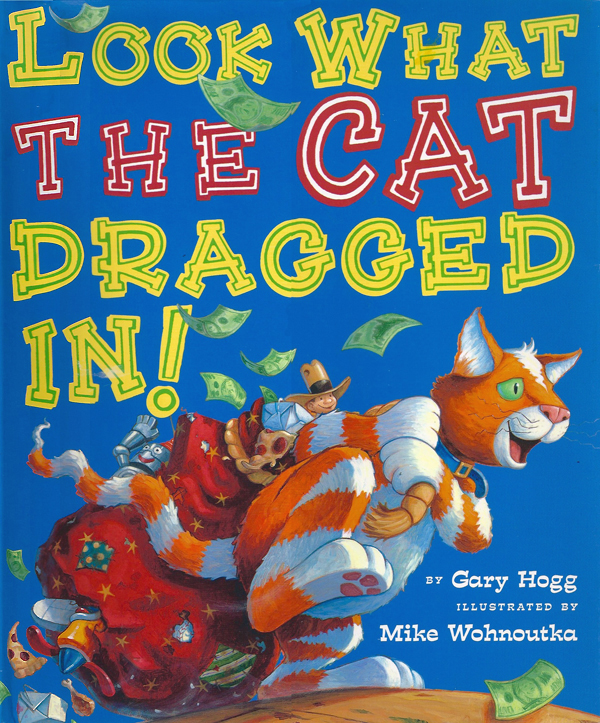 Look What the Cat Dragged In!
Written by Gary Hogg
Illustrated by Mike Wohnoutka
Dutton Children's Books, 2005
Picture Book, 32 pages
Ages 4–8
Hardcover ISBN: 978-0-802-72066-5
Deep in the woods, in the middle of winter, the last thing the Lazybones family wants to do is step outside their cabin. When they complain about being chilly, it's up to the cat to go out and get them some firewood. "Look what the cat dragged in!" they exclaim. Still the Lazybones refuse to move a muscle, so the little cat has to take care of their hunger and boredom too. Finally the kitty gets fed up with their selfish whining, and he drags the Lazybones into the middle of trouble—earning himself some well-deserved peace and quiet at last.
"The animated scenes put the right spin on the absurdity, with vivid hues of orange and blue cranking up the energy and a perspective that cleverly places the cat in the forefront of all the raucous action. Silly, entertaining feline fun."
" silly and clever tale to be read aloud."
—Square Books, Jr. Bookstore
"… illustrations explode off the pages …"
"Wohnoutka mixes milieus in his comic country scenes, setting the Lazybones down in a rustic log cabin, but surrounding them, ultimately, with empty pizza and Chinese takeout boxes, along with Twister, Mr. Potato Head and like amusements. Readers weary of endless variations on 'Little Red Hen' might give this a try."
"Kids will deeply empathize with the cat, who expresses the keen sense of unfairness children often feel."