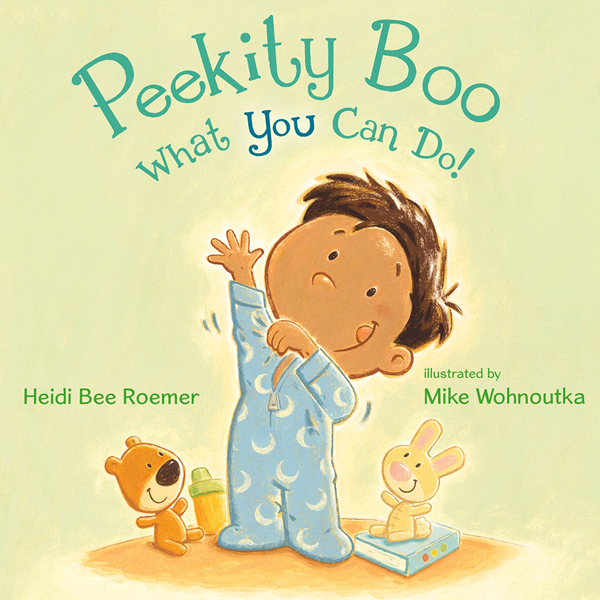 Peekity Boo, What You Can Do!
Written by Heidi Bee Roemer
Illustrated by Mike Wohnoutka
Christy Ottaviano Books / Henry Holt, 2019
Picture Book, 32 pages
Ages 0–5
Hardcover ISBN: 978-1-250-12232-2
This picture book for very young children flows through the motions of a comforting bedtime routine, starting with an energetic bath and then changing into jammies, reading a book, cuddling with a favorite toy, and snuggling with loved ones before falling off to sleep. It's a soothing prelude to bedtime.
"A calm, quiet book that children will find delightful, enjoying the repetition and seeing themselves through the eyes of a book."
"A reassuring read-aloud choice for young children. Wohnoutka's simple, cheerful illustrations focus on the child and his parents, with just enough background to set the scenes and props to carry out the action. Just right for bedtime reading."
"Wohnoutka's chalky art creates a sense of homey contentment―like a warm blanket."
"Brightly painted illustrations bring the simple story to life. VERDICT: Recommended for general collection for public libraries as all families will find familiarity within this book. The soothing illustrations, rhyming text, and calm tone makes for an excellent addition to any bedtime routine."