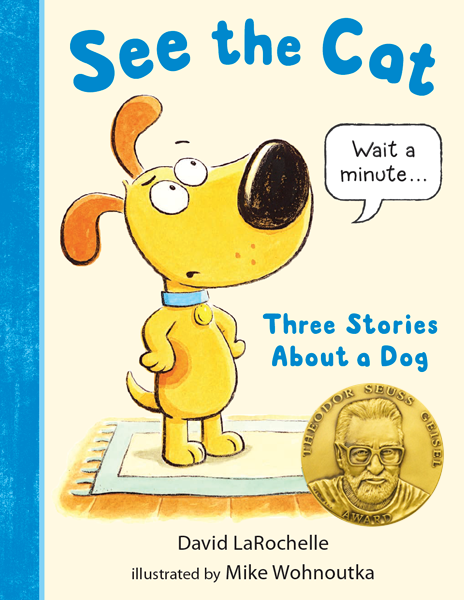 See the Cat: Three Stories About a Dog
Written by David LaRochelle
Illustrated by Mike Wohnoutka
Candlewick, 2020
Early Reader, 64 pages
Ages 4–8
Hardcover ISBN: 978-1-5362-0427-8
An American Library Association Notable Children's Book
A Junior Library Guild Selection
A Texas Library Association 2×2 Reading List Selection
A Parents Best Book of the Year
A Booklist Editors' Choice
A Center for Children's Books Gryphon Award Winner
A Cybils Award Winner
Amazon Best Book
Chicago Public Library Best of the Best Books 2020
Evanston Public Library's Great Books for Kids List 2020
2021 Capitol Choices Noteworthy Books for Children
CCBC Choices 2021
Nerdies Award for Early Readers, 2020
A Midwest Independent Booksellers Assoc. Bestseller
Max is a dog … but why does the book keep insisting that the reader should "see the cat?" Over the course of these three short stories, Max and the book have very different ideas about the stories they wish to tell. Fortunately they're able to reach a happy conclusion that satisfies them both … and will make young readers giggle.
"Children, who are frequently subject to the control of others, will delight in seeing Max mirror their emotions and turn the tables. Kids will cheer for the affronted Max in this well-crafted early reader with surprising outcomes."
"With short, simple words and a keen sense of comedic timing, LaRochelle sets up this battle of wits but leaves space for Wohnoutka to work his magic. The expressive gouache illustrations bring the characters to life, deliver much of the book's humor, and create a blissfully happy ending for Max. Using the predictability of traditional "easy reader" books as a springboard to laugh-out-loud moments, this book is a rewarding choice for kids tackling the not-so-easy task of learning to read."
—Booklist (starred review)
"The sharp humor and expressive, highly distilled gouache cartooning offer opportunities for lots of giggles, but the real joy of this stand-out beginning reader comes from watching a genuine underdog speak his truth."
—Publishers Weekly (starred review)
"Who is running the show in this delightfully humorous easy reader? Cartoon-style illustrations expertly support a text with repetition and simple sentences. As Max progresses from confused to canny to competent, children will find a reflection of their own reading journey as well as amusement at the metafictive aspect of a dog wrestling with a book."
—School Library Journal (starred review)
"This beginning reader inventively supports both traditional and visual literacies. Short sentences carry a steady rhythm, with word repetition scaffolding language acquisition and offering clever callbacks. Gouache illustrations in subdued hues enliven and support the narrative. This entertaining exploration of words, images, and how they function together to tell a story will be popular with fans of Mo Willems."
"There's something about its combination of 4th wall bursting humor and pared down design that feels fresh. You can hand this to a kid learning to read, absolutely. Just be warned that their read may be punctuated with interjections of a highly voluble nature. In other words, this is laugh-out-loud funny. A welcome entry into a crowded field full of too few superstars."
A preview of the beginning reader See the Cat: Three Stories about a Dog
Downloadable Activity Sheets
Visit David LaRochelle's website for downloadable sheets to do some creative drawing along with creating a mini-book that allows YOU to be the author.