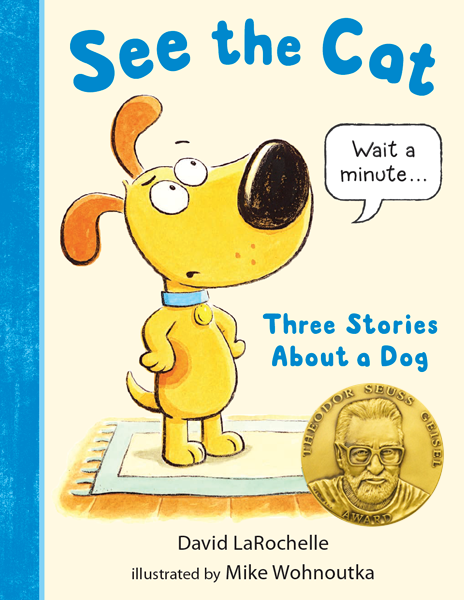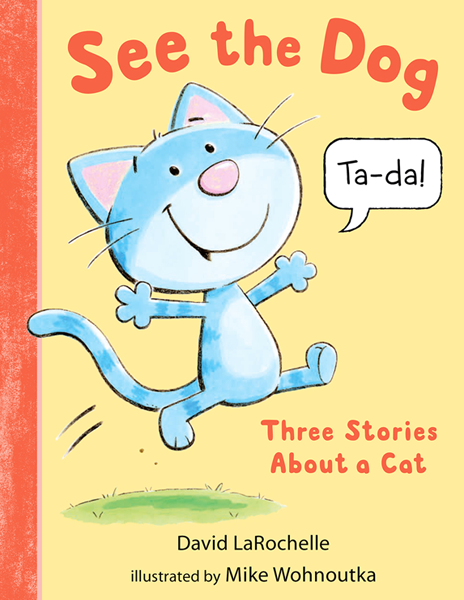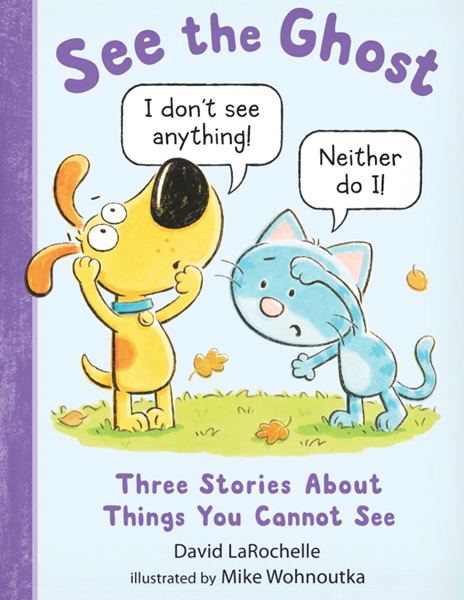 Written by David LaRochelle
Illustrated by Mike Wohnoutka
Candlewick, 2020-23
Early Reader, 64 pages
Ages 4–8
ISBN: See the Cat –  978-1-5362-0427-8
ISBN: See the Dog – 978-1-5362-1629-5
ISBN: See the Ghost – 978-1-5362-1982-1
∗Scroll to the bottom for downloadable activity sheets
Theodor Seuss Geisel Award!
An American Library Association Notable Children's Book
A Junior Library Guild Gold Standard Selection
A Texas Library Assoc. 2×2 Reading List Selection
A School Library Journal Best Book
A Parents Best Book of the Year
A Booklist Editors' Choice
Center for Children's Books Gryphon Award
A 2020 and 2021 Cybils Award Winner
A Nerdy Book Award Winner
Michigan's Great Lakes Great Books Award
A Bank Street College Best Book
Amazon Best Book
Chicago Public Library Best of the Best Books List
Evanston Public Library's Great Books for Kids List 
Capitol Choices Noteworthy Books for Children
CCBC Choices 2021
CCBC Choices 2022
Utah's Beehive Book Award Nominee
Minnesota Star of the North Award Runner-up
Florida's Sunshine State Young Reader Award Nominee
Indiana's Young Hoosier Book Award Nominee
A Midwest Independent Booksellers Assoc. Bestseller


 
Over the course of these three short stories, Max and the book have very different ideas about the stories they wish to tell. Fortunately they're able to reach a happy conclusion that satisfies everyone involved … and will make young readers giggle.
Reviews for SEE THE CAT: THREE STORIES ABOUT A DOG
"Children, who are frequently subject to the control of others, will delight in seeing Max mirror their emotions and turn the tables. Kids will cheer for the affronted Max in this well-crafted early reader with surprising outcomes."
"With short, simple words and a keen sense of comedic timing, LaRochelle sets up this battle of wits but leaves space for Wohnoutka to work his magic. The expressive gouache illustrations bring the characters to life, deliver much of the book's humor, and create a blissfully happy ending for Max. Using the predictability of traditional "easy reader" books as a springboard to laugh-out-loud moments, this book is a rewarding choice for kids tackling the not-so-easy task of learning to read."
—Booklist (starred review)
"The sharp humor and expressive, highly distilled gouache cartooning offer opportunities for lots of giggles, but the real joy of this stand-out beginning reader comes from watching a genuine underdog speak his truth."
—Publishers Weekly (starred review)
"Who is running the show in this delightfully humorous easy reader? Cartoon-style illustrations expertly support a text with repetition and simple sentences. As Max progresses from confused to canny to competent, children will find a reflection of their own reading journey as well as amusement at the metafictive aspect of a dog wrestling with a book."
—School Library Journal (starred review)
"This beginning reader inventively supports both traditional and visual literacies. Short sentences carry a steady rhythm, with word repetition scaffolding language acquisition and offering clever callbacks. Gouache illustrations in subdued hues enliven and support the narrative. This entertaining exploration of words, images, and how they function together to tell a story will be popular with fans of Mo Willems."
"Clever, short, repetitive sentences and expressive cartoon-like gouache illustrations create a laugh-out- loud story about a dog who everyone thinks is a cat."
—Bank Street College of Education
"There's something about its combination of 4th wall bursting humor and pared down design that feels fresh. You can hand this to a kid learning to read, absolutely. Just be warned that their read may be punctuated with interjections of a highly voluble nature. In other words, this is laugh-out-loud funny. A welcome entry into a crowded field full of too few superstars."
Reviews for SEE THE DOG: THREE STORIES ABOUT A CAT
"The playful rebellion against the repetitive Dick-and-Jane pattern makes for nonstop, rip-roaring fun. Wohnoutka's full-color cartoon illustrations hilariously accentuate the cat's histrionics. See this book fly off the shelves."
"Gouache illustrations capture the hilarity and readers will enjoy the three vignettes that provide a complete narrative arc of Cat's day subbing in for Dog. . . . Using simple language, humorous speech bubbles, and laugh-out loud funny illustrations ­LaRochelle has another winning early chapter book that readers will enjoy having read to them as well as conquering on their own."
—School Library Journal (starred review)
"The seemingly straightforward text sets up the wonderfully comical gouache illustrations. . . A well-designed, irresistibly funny sequel for beginning readers."
"Early readers will eagerly recite and then read these total hoots again and again, which is the goal."
—Arkansas-Democrat Gazette
"The subversion of the static text with contradicting or simply goofy visuals cleverly brings the story to a meta level, but youngsters can still hone their burgeoning skills on the narrator's direct, simple sentences."
—The Bulletin of the Center for Children's Books
"LaRochelle's few but hilarious words and Wohnoutka's cheery illustrations are a winning combination."
—Star Tribune
"With repetition and lots of silliness, this book is sure to become a treasured favorite."
—Brightly

"Classic "straight man/wise guy" sketches and "breaking the fourth wall" are genius comedic devices the award-winning duo uses to elicit giggles. The sprightly fun is creatively written using simple text, making this a must-have confidence-builder for early readers with a keen sense of humor."
—The Toledo Blade
"A clever premise, a rollicking pace and exuberant illustrations make 'See the Dog' a must-see choice."
Reviews for SEE THE GHOST
"A delightful and humorous first purchase for early reader collections."
-School Library Journal (starred review)
"Big laughs from this early reader. Broken into three stories, LaRochelle's accessible text will inspire confidence and giggles in new readers. Wohnoutka's gouache, comics-inspired illustrations use speech balloons to ratchet up the humor while providing context cues to support emerging decoding skills. . . See the star? Buy the book."
"Through the clever use of speech bubbles and Wohnoutka's delightful, inventive illustrations, three invisible things are animated and given tremendous personality. It is a remarkable feat to pack so many genuine laughs into such a simple text for emerging readers. This Geisel-winning series keeps the bar high with this newest installment. Not only does it set beginning readers up for success with repetition and context clues galore, but it entertains to its very core.
—Booklist (starred review)
"SEE THE GHOST is one of those early readers that adults won't mind reading with their children/students. And if you're one of those people who judge the price of a children's book by how many times it gets read, you'll be satisfied. They'll pick this one up until they can read it all by themselves, after which you can pass it on to another beginning reader who is sure to appreciate it."
—The New York Journal of Books
A preview of the beginning reader See the Cat: Three Stories about a Dog
Downloadable Activity Sheets