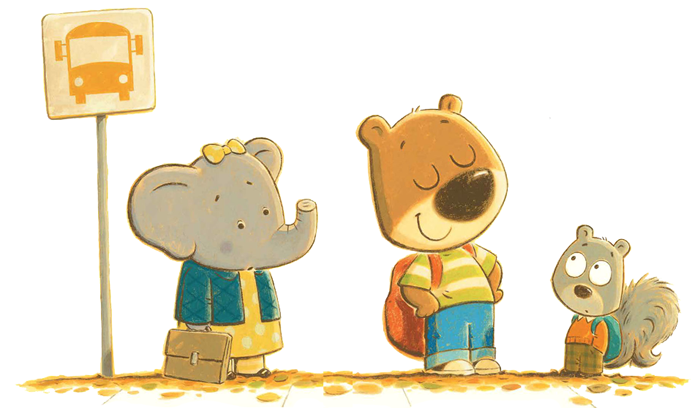 Illustrator Mike Wohnoutka does a terrific presentation with students!
He captivates their attention at the very beginning and keeps their interest through the entire presentation. He is a skillful artist with a talent for communicating well with students. I highly recommend Mike for a school visit! Students and teachers walk away smiling.
—Laura Mestler, Media Specialist
Creek Valley Elementary
Edina, MN
Mike does an excellent presentation for children. An enriching event for all. Two-thumbs up!!
—Kathy Blanchard, Media Specialist
Brownsdale Elementary – Brownsdale, MN
Our students were mesmerized by Mike Wohnoutka's drawings and stories about how he became an artist. He had a special way of communicating with the students. His presentations were very appropriate and adapted for whatever grade level he was speaking to. His tips on how to draw let the students know that it is OK to fix and improve their work. Editing makes the work better! Many students were inspired to draw after his visit and they will be talking about Mike for a long time. We give his visit a ten!
—Author/ Illustrator Committee
New York Mills Elementary – New York Mills, MN
We at Kennedy were overjoyed with the presentations that Mike Wohnoutka did for our students and staff. If your school or group is looking to ignite people with a passion for art, then Mike is your person!
—Stephanie Gillman, Media Specialist
Kennedy Elementary School – Willmar, MN
Mike's school visit was delightful, displaying a playful spirit, imagination and talent. His love of kids, books and illustrating shines through his presentation.
—Cheryl S. Lany, Media Specialist
Parker Elementary School – Elk River, MN
Our elementary schools just spent two delightful days with illustrator Mike Wohnoutka. Mike easily varied his presentation to meet the interest level of each group of students. Our staff couldn't say enough good things about Mike's presentations. Mike Wohnoutka will certainly be on our list for a return visit!
—Cathy Retzer, Library Media Specialist
Medford Area and Stetsonville Elementary Schools – Medford, WI
We highly recommend Mike and definitely plan to invite him back again!
—Reading Committee
Edinbrook Elementary – Brooklyn Park, MN
Schools in Minnesota and western Wisconsin – $1,200
Plus mileage if outside Twin Cities area,
and lodging if more than 100 miles from Minneapolis
Schools outside of Minnesota – $1,500
I'm also available for conference and library bookings.