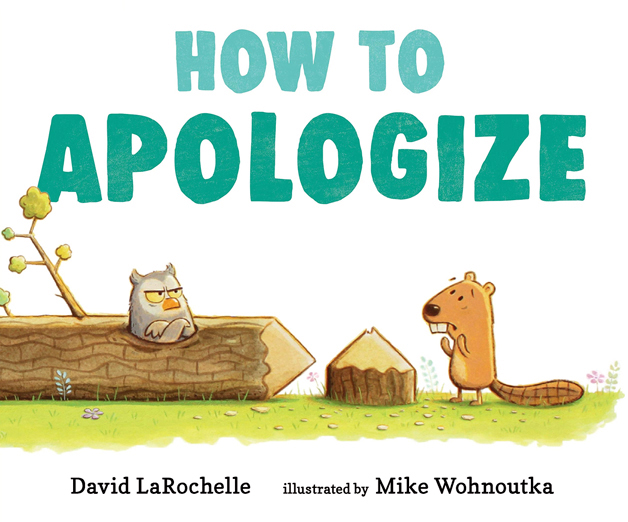 Written by David LaRochelle
Illustrated by Mike Wohnoutka
Candlewick, 2021
Picture Book, 32 pages
Ages 4–8
Hardcover ISBN: 978-1-53620-944-0
∗Scroll to the bottom for downloadable activity sheets!
Click here to read Mike's interview with Seven Impossible Things Before Breakfast about creating the illustrations for How to Apologize and see some "behind the scene" sketches.
A Junior Library Guild Selection
Amazon Best Book
Parents magazine's 30 Best Children's Books of 2020
Chicago Public Library Best of the Best Books 2020
Evanston Public Library's Great Books for Kids List 2020
Wouldn't the world be a better place if everyone knew how to apologize? Luckily, this humorous guidebook is full of practical tips about when, why, and how to say you're sorry. From a porcupine who accidentally popped his friend's balloon to a snail who was running so fast he stepped on a sloth's toes, hilarious examples and sweet illustrations abound. For both listeners who are just learning and older readers who need a refresher, this book will come as a welcome reminder that even though apologizing can be hard, it doesn't have to be complicated.
Minnesota Book Award Winner!
A Kirkus Reviews Best Picture Book
CCBC Choices 2022
Brightly Best Children's Books of May
Red Tricycle Best Children's Books of 2021, So Far
Amazon #1 Bestseller in Children's General Humor Books
Amazon Editors' Pick: "Best of the Month" for May
A Midwest Indie Booksellers Assoc. Bestseller
A Mountains & Plains Indie Booksellers Assoc. Bestseller
Complex Chinese, Dutch, French Canadian, and Italian editions – click here to see the covers
2023 Nominee for Illinois' Monarch Award
"The perfect balance of humor and gravity delivers the message in an appealing way, and even the most outlandish scenarios are accessible. Children and adults alike can see themselves in both the aggrieved party and the wrongdoer, all presented with understanding and compassion. Equally useful as a lesson on social-emotional dynamics and as a story, this book has a place on every shelf. A necessary and entertaining approach to conflict resolution."
"After a year of social deprivation, many of us may benefit from a refresher course in how to get along with others. David LaRochelle lays out the workings of a crucial interpersonal mechanism in "How to Apologize", a humorous primer for children ages 3-8. The gold and brown that Mr. Wohnoutka uses to outline his figures give the scenes a friendly, sun-warmed feeling. Young readers will see examples of animals modeling kindness and contrition ("I'm sorry I popped your balloon. I really am," a porcupine tells a squirrel) but also instances of deplorable insincerity. Mr. LaRochelle's counsel here is sensible, and in the aftermath of a socially distanced pandemic may be as welcome—and as necessary—for parents as it is for their children."
"Humorous examples of sincere and insincere apologies drive the messages home, while the illustrations continue to provide comic relief as reparation and restoration of relationships are achieved. VERDICT Straightforward text combined with funny illustrations make for an instructive primer on how to apologize. Children will delight in the hilarious animal antics while absorbing the explanatory lesson without didacticism."
"The prizewinning duo of LaRochelle and Wohnoutka is back, this time tackling the topic of repentance with their trademark wit and humor. This book is never preachy, even as it offers sample apologies (both sincere and otherwise). It's good-natured and funny and probably something all of us should heed."
"With applicability well beyond its reading level, this latest outing from the creators of See the Cat: Three Stories about a Dog and other clever romps focuses on the importance of apologizing for accidents or offenses and how to do it properly. Wohnoutka lightens the earnest tone of LaRochelle's pitch with comical scenes of anthropomorphic cartoon animals. Along with rightly acknowledging that it might be hard, or even impossible, to fix mistakes, the author closes with a promise that saying sorry and meaning it will make you and, more important, the other person feel better."
"Previous collaborators LaRochelle and Wohnoutka (Geisel Medalists for See the Cat) are loving but firm in this compassionate guide to apologizing. Straightforward narration underlines the importance of sincerity without excuses even if the one you've offended "owes you an apology too" (rambling examples of what not do make great readalouds). The gouache cartooned vignettes, rendered in crisp outlines and soft washes of color, have immediacy and verve that's both harrowing and heartfelt; while the animal characters are engaged in amusingly exaggerated situations, both parties' emotions are thoroughly authentic. If readers feel the pang of recognition, they'll also see that making amends is both edifying and evergreen."
"David LaRochelle takes a rather humorous approach in explaining not only the importance of apologizing, but how to do it sincerely. With whimsical illustrations by Mike Wohnoutka, even adults will learn a thing or two about the art of the apology."
"The old idea that apologies matter is a useful message delivered here in funny scenarios."
—The Northwest Arkansas-Democrat Gazette
"This story teaches that everyone makes mistakes, and when you do, apologizing is the next step. Read through humorous examples of insincere apologies followed by a variety of ways to appropriately ask for forgiveness."
"I can't think of a better life skill to help children readjust to life with friends than learning how to apologize. Whether the offense was intentional, accidental, or a misunderstanding, this humorous story shows kids examples of when and why to say 'sorry.'"
"Funny, but useful and gentle, lessons for kids who want to make things right when things go wrong."
—The St. Paul Pioneer Press
"The gouache artwork has a soft sunniness and sense of humor that invites readers in. The art plays off of the text well, illuminating each situation with a sense of playfulness and, crucially, restraint. An important topic executed with care, How to Apologize is picture book instruction at its best. Every teacher should go out and get a copy."
—Travis Jonker - 100 Scope Notes